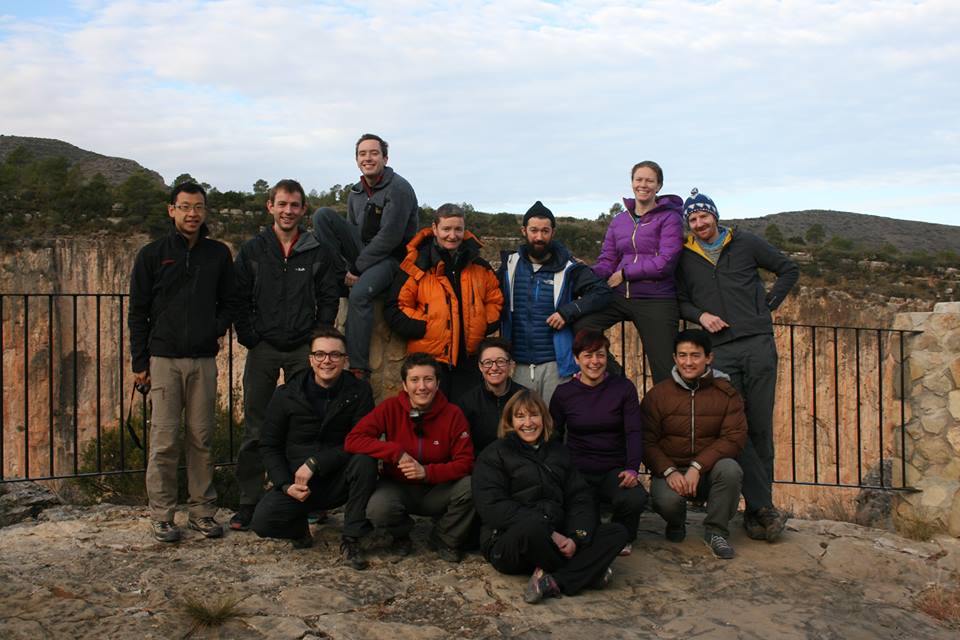 Not So Trad, Southern LGBT Climbers is an LGBT+ climbing club, largely based in London but with members spread across the south of England and further afield.
We are a very friendly group of climbers of all ages, grades and aspirations. We currently have more than 100 members, aged from 20s to 60s, and an equal gender balance. We welcome all gay, lesbian, bisexual and transgender climbers and their friends to enjoy climbing in a fun and friendly atmosphere and to progress in the sport.
NST are into all styles of climbing: indoor, outdoor, trad, sport, alpine, winter, bouldering, DWS. Our members have a wide range of experience and ability: you can chose to push your grade with us, or just enjoy a casual climb.
NST was formed in 2007, and developed from a group based within the Gay Outdoor Club. However the members felt that a closer association with the British Mountaineering Council (BMC) was an important part of our development as a club. In particular we wanted to have a visible presence of LGBT+ climbers within the larger institution that is the BMC, as well as to support BMC activities and campaigns.
Two of our members, Martin and Roslyn, were interviewed by UKClimbing.com for an article about LGBT+ climbers, the role our club plays in both the LGBT+ and climbing worlds, and what our members get out of being in the club.  Read the article here.
Where we climb
Our main meet is weekly, year-round, on Thursday nights at The Castle climbing wall in North London, followed by a swift social in the local pub. There are also occasional meets at The Reach in Woolwich and other indoor walls.
As well as our regular indoor meetings, we have a busy year-round program of weekend or longer trips each year to locations such as Portland, Wales, the Lake District, Cornwall, the Peak District, as well as international trips. All our events are great fun to join, whatever your level of experience.
As well as straight (ahem) climbing trips, we encourage our members to improve their skills in a structured way, and organise for example Learn to Lead and self-rescue skills courses.
More about our climbing programme >
Who can climb with us?
To join the club on one of our regular indoor meets, you need to have climbed before, either indoors or outdoors, and know how to climb safely. Non-members are welcome to boulder indoors with us prior to joining the club. Our outdoor trips generally require more experience, though there are also a couple a year that are targeted at outdoor novices.
BMC club membership
As well as membership of a community of like-minded people to go climbing with, your membership fee gives you club membership of the British Mountaineering Council (BMC), which means you're contributing to all the good work that the BMC does for UK climbers. You get a range of other benefits including public liability insurance cover and a 10-20% discount in selected outdoor stores.  For more details, find out about membership.
Not So Trad News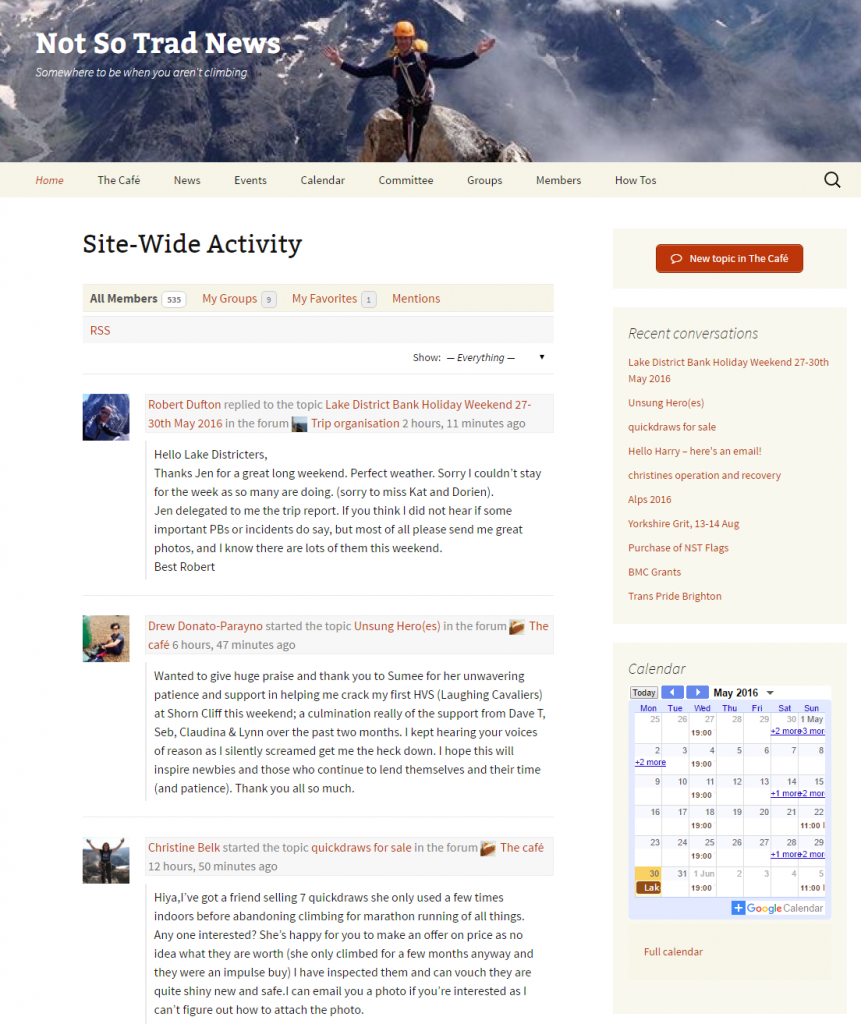 At the heart of club communication is our private forum, Not So Trad News.  We use it for all kinds of things, including organising future meets, reporting on previous meets, finding partners for ad-hoc sessions, swapping tips, selling things, discussing club plans, and gossiping, obviously.
Club organisation
We aim to be "club-lite", minimising bureaucracy so we can maximise time out on the rock.  The club is run by a small committee which meets quarterly.  Each meet has a trip organiser who is responsible for booking accommodation, co-ordinating lifts and so on.  We invite all members to an annual planning meeting every November, which is a great opportunity to come together to socialise, review the year, elect next year's committee, and discuss next year's event schedule.  If having joined you want to get involved in any aspect of running the club, you'll be very welcome.  Not So Trad is what its members make it!